From Coast Path To Crazy Kate!
If you are camping in Devon and Cornwall this year, you should really think about exploring the Devon Coast Path (also known as the South West Coast Path). The Devon coast is widely considered to be one of the most amazing coastlines in the South West (some would say in the whole of the UK!).
If you are staying in the Bude area, you have the North Devon section of the coast path on your doorstep! Many companies arrange organised walking tours – such as National Trails – which start on the Devon border and take you southwards along the Long Distance Path towards Bude. Whatever villages you want to visit while you are camping in Devon and Cornwall, you can make the coast path part of your trip and take in some stunning sea views along the way.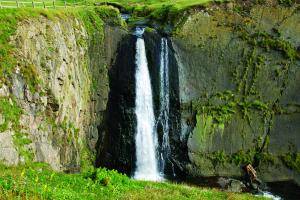 For serious walkers, the Bude to Hartland Quay stretch of the coast path is a fairly strenuous trek. It is just over 13 miles long and takes in some amazing views, including Maer Cliff, Higher Sharpnose Point, St Catherine's Tor and Speke's Mill Mouth waterfall. See the full details of this Bude to Hartland Quay walk with the link provided.
If you want something a little gentler, the 'The Hobby Drive Walk' is a flat, easy walk through Clovelly, a beautiful village in some of the area's most unspoilt countryside. The 3-mile walk starts at the top of Clovelly's cobbled street and is marked with yellow 'coast path' way-markers, making it very easy to follow. Get more information on Clovelly walks in this pdf.
If you need some rest and refreshment after all your walking, Clovelly is warm and welcoming. It is privately owned (by the same family since 1738) and has been wonderfully preserved in mid-19th century style.
Visitors to Clovelly don't mind paying the small entrance fee, which goes towards the cost of keeping the village maintained using traditional materials and craftsmanship.
Its cobbled main street is build into an opening in a cliff and is entirely free from traffic. World famous as a fishing village, Clovelly is also known for its donkeys! In the absence of vehicles, these hard-working animals carry items up the hill (sledges bring them down!).
Highlights include Clovelly Court Gardens, pretty Victorian walled gardens with impressive greenhouses and a range of exotic plants, and Kingsley Museum, dedicated to one of Clovelly's sons, the Victorian author and social reformer Charles Kingsley (1819 – 1875).
You really do feel like you have stepped back in time when you enter Clovelly. For a taste of local history with a twist, visit Crazy Kate's Cottage, the oldest cottage in the village, which has amazing views across the harbour. This was the home of Kate Lyall, who died in 1736. Her husband was a fisherman and she would watch him at work from the top window of the cottage. When a squall blew up outside the harbour, she watched her husband drowned. Kate later became mentally ill (hence the name 'Crazy Kate'); her tragic tale ended when she herself drowned, after putting on her wedding dress and walking into the sea.
As you can see, a holiday camping in Devon and Cornwall can open up a world of possibilities!