If you are looking for the ideal base for camping in Cornwall, Tamar Lake Farm provides the perfect location. Ideally situated for the coast and countryside of beautiful North Cornwall and North Devon, Tamar Lake Farm is just inside the Cornish border within easy walking distance of the Tamar Lakes.
Tamar lake Farm offers a sheltered, gently sloping site with well-spaced pitches for touring caravans, motor homes and tents and electric hookup facilities. This is a family-friendly site where children have room to play and explore. Pets with responsible owners are very welcome too!
Please visit our Site Fees page for pricing information.
The Tamar Lakes, with their abundant wildlife, coarse fishing, bird watching, water sports and cycleway, make an alternative destination from the three nearby National Trust beaches of Northcott Mouth, Sandymouth and Duckpool.
The town of Bude is also nearby and in addition to its beautiful sandy beaches and historic canal, it offers many facilities for visitors with a museum, galleries, restaurants, shopping and supermarkets.
Site Facilities
Wei's Chinese Kitchen Chinese Takeaway and Chinese Buffet Restaurant
Hardstanding For Car Parking and All-Weather Pitches (read more)

A sheltered and secluded site, ideal for a relaxing holiday whether tenting or caravanning.

Camping In Cornwall: Facilities at Tamar Lake Farm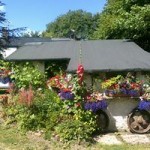 Facilities on site comprise a toilet block with shower, dish washing area and a chemical disposal point.
Caravan Storage, Seasonal Pitches. Ample room for children to play and explore, pretty gardens and a woodland dog walk.
The Toilet block has been completely refurbished and now offers disabled toilet facilities, free-to-use showers (no coin meter) and washing facilities. The vegetable preparation / washing-up area has also been refurbished, providing hot water on-tap and a sheltered area to work in.
Click links below to view images
Washing facilities in the ladies' toilets
Hard-standing For Car Parking and All-Weather Pitches
We have all weather car-parking and hard-standing pitches (with electric hook-up) for larger motor homes and caravans in wet weather plus a picnic area.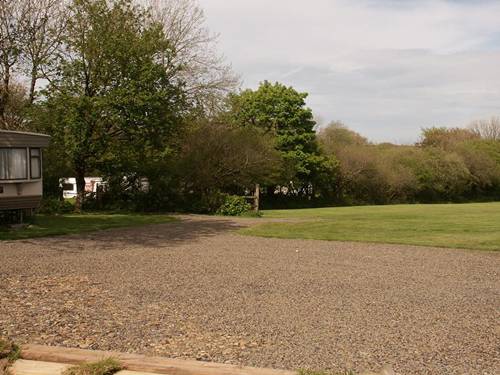 The hard-standing area provides easy car parking and an all-weather pitch for larger vans and motor homes in wet conditions (see below)
Wei's Chinese Kitchen
In August 2012, Wei opened her restaurant which also offers take out food. Located just inside the entrance to Tamar Lake Farm camp-site, Wei's Chinese Kitchen offers a new concept in Chinese Takeaway in Cornwall.
In 2013, the first full season of opening, the restaurant proved so popular and successful that it was obvious the original seating area for 16 just was not adequate! Over the Winter of 2013/2014, Paul has completely redesigned and extended the seating area to accommodate up to 30 diners and created a new, larger servery area.
Come into the restaurant and choose your takeaway from the buffet servery – see what you are ordering from the delicious dishes on offer. Alternatively, dine in and enjoy the relaxed ambiance of the restaurant.
For more pictures, sample menu and pricing details, please use this link.
Camping In Cornwall: Off-site Facilities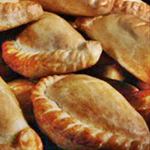 Facilities off-site include local shopping at nearby Kilkhampton (4m), Farm shop (5m) with excellent selection of local produce, bread, meats and freshly baked pasties. Kilkhampton also offers pleasant pubs with good food, a fish and chip shop, pizza (will deliver) and Chinese take-away. Bude offers a large Morrisons supermarket with petrol station, an indoor heated pool and leisure centre.
Camping In Cornwall: Family Days Out

For camping in Cornwall with young children, there are great days out at attractions within an easy drive of Tamar Lake Farm including:-
The Milky Way
The Big Sheep
Tamar Otter and Wildlife Centre
Family Days Out On Nearby Beaches

Camping in Cornwall near a beach makes for a very special holiday with young children.
Bude offers beautiful sandy beaches and the nearby National Trust beauty spots of Sandymouth with it's acres of sand, Duckpool and Northcott mouth make the perfect location for families to enjoy the very best that North Cornwall has to offer.

Tamar Lake Farm offers visitors a real 'get away from it all' break if you want to explore the countryside, coastal paths, lake shore and wildlife.
Walking at the Lakes and Bude Canal is easy going with level paths. The coastal paths are well signposted and there are many circular walks for all abilities.
Enjoy Camping In Cornwall Out of Season

Camping in Cornwall starts early at Tamar Lake Farm, with the site open early in Spring and late into Autumn, you can visit any time between early March and late October and enjoy the beauty of the area as the seasons change.
For full pricing details, visit our Site Fees page.